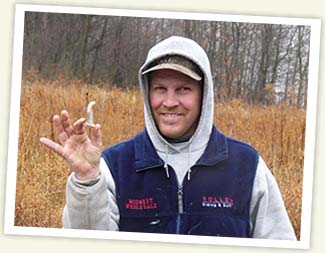 Fundraising Event
In 2022, Wheatie's Drive held our 9th fundraising event — an 18-hole golf outing, raffle and dinner event. With support from our sponsors, golfers, raffle participation and overall community support, we far surpassed our expectations.
A look at the numbers:
20 Sponsors (corporate and private)
134 Golfers
23 Dinner guests (in addition to the 134 golfers)
Over 100 donated items for the raffle
The Results
We raised over $8,500 at our 2022 event!
This is an incredible number and it speaks volumes to the love and fondness we share for our namesake. Brian would be humbled and proud of our accomplishments.
Our sincere thanks to all that contributed to this success! We could not do any of this without each and every one of you.
For continued updates regarding our 2023 event please follow us on Facebook, or check back here.
Donations in Action
If you know of an organization with a similar mission as Wheatie's Drive, please feel free to make the connection between us.
2022 Donation Recipients
Cottage Grove Recreation Department
The Cottage Grove Parks and Recreation Department is dedicated to improving the quality of life for all citizens by providing the best possible recreation programs, special events, facilities, and services that encourage lifelong learning, fitness, and fun.
Tom's Guns Learn to Hunt program
Located in Marshall, WI, this 25-year-old learn to hunt program truly goes to bat for young, and old, hunter want-to-bes. If their hunters don't have a mentor, this program provides one. If the hunter doesn't have camo to wear, Tom's Guns rounds some up. Whatever the hunter needs to experience the hunt, Tom's Guns provides it for them.
First Tee of South Central Wisconsin
The mission of The First Tee of South Central Wisconsin is to impact the lives of young people by providing educational programs that build character, instill life-enhancing values and promote healthy choices through the game of golf.
Cottage Grove Home Talent
The Cottage Grove Fireman Home Talent baseball team is the longest running amateur baseball team since the inception of Wisconsin's Home Talent League in 1929. Each year they competitively play 28 games throughout the season with home games being played at the historic Clarence Buss Field at Fireman's Park in Cottage Grove. The team consists of players that have graduated from Monona Grove School District or live within Cottage Grove Village limits.
Fishing Has No Boundaries – Madison Chapter
Fishing Has No Boundaries is a non-profit organization whose goal is to open up the great outdoors for people with disabilities through the world of fishing. FHNB has grown into a National Organization with 27 chapters in 13 states, enabling thousands of individuals with disabilities to participate fully in this spirit lifting, morale booster, trouble-free recreational activity.
Memories of Brian
If you have photos to share of Brian, we would love a copy. Please send digital files to us at: WD@WheatiesDrive.org or upload them to our Facebook page.
Our Mission
Wheatie's Drive is a foundation created in the memory of Brian "Wheatie" Wiest. Brian had a passion and respect for the outdoors, which is at the heart of the foundation. Wheatie's Drive is focused on providing opportunities to individuals and organizations that seek to enrich the lives of others through outdoor activities.
By making a donation to a community recreation program, providing funds to a youth fishing trip, or sponsoring an individual to participate in a learn-to-hunt program, Wheatie's Drive will stay true to its mission and provide lifelong memories.
Giving Back:
100% of the Proceeds from our Fundraiser will Benefit Wheatie's Drive
Wheatie's Drive has formed a committee that will meet on a yearly basis and review potential organizations or individuals to help support. The review committee will base their gift decision on one main theme: How closely related the activity is to something Brian would be proud of supporting. One monetary gift or several will be awarded each year.
If you or someone you know is associated with an organization that provides learning opportunities in the great outdoors, please contact us. There is no requirement of age, gender, or time of year.
Contact Us
Wheatie's Drive
P.O. Box 6503
Monona, WI 53716
Email us: WD@WheatiesDrive.org